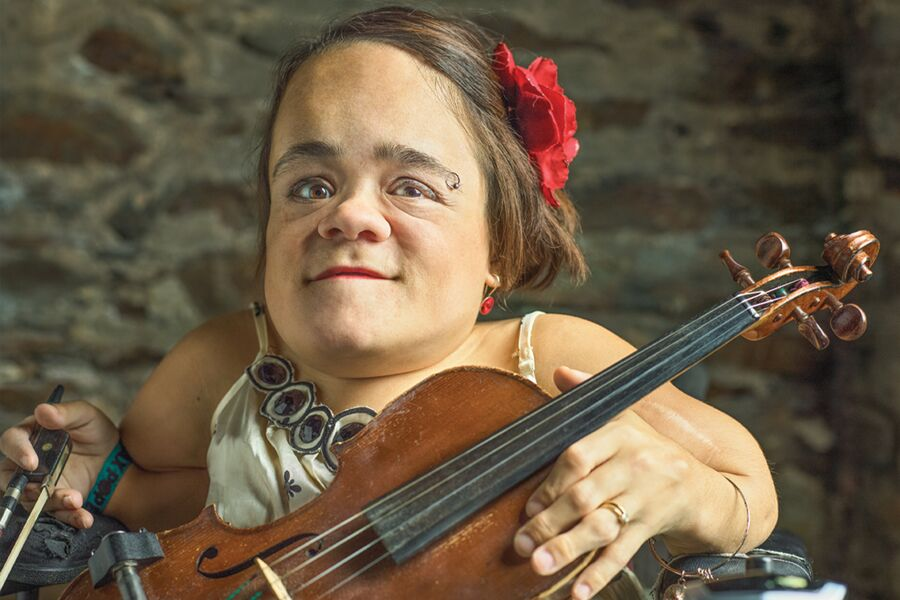 Disability Pride Madison Presents
Gaelynn Lea
Doors:

6:30 pm

/
Show:

7:30 PM
High Noon Saloon
$10 ADV // $10 DOS
All Ages
When Gaelynn Lea won NPR Music's 2016 Tiny Desk Contest, her two decades as a hardworking and talented Minnesota musician finally crystallized in a beautiful moment of national recognition. It was also just the beginning of a grand adventure. With the wind of her award at their backs, Gaelynn and her husband Paul sold their house, quit their jobs, bought a van, and hit the road.

Since then, Gaelynn has played over 425 shows in 42 states and seven countries, adding nearly 100,000 miles to their Ford Econoline's odometer. The singer-songwriter and violinist has graced the stage of renowned venues like Nashville's Music City Roots, The Kennedy Center, House of Blues and even BBC World News. This June she was featured at arts festivals in Iceland and Switzerland; she then played Winnipeg Folk Fest in July, Travelers Rest Festival in August and Halifax Pop Explosion in October.

Yet somehow between this perpetual blitz of performances, Gaelynn also managed to release her third full-length album in September. Until this point Gaelynn Lea has presented most of her songs using only a few tools: a violin, a voice, and a looping pedal. But for her latest, Gaelynn Lea enlisted the help of some musical friends to bring her new album to life. Several of Minnesota's heavy-hitters—including Al Church, Dave Mehling, Marty Dosh, Andrew Foreman and Alan Sparhawk—lent their creative influence and musicality to this recording. The result is a powerfully emotive effort of confidence and purpose which captures the poignancy and presence of Gaelynn Lea's crafted repertoire.

Her new album, Learning How To Stay, is an 11-song collection that runs the gamut sonically from pensive and luscious to aggressive and intentioned, from folk to decidedly pop, and even includes a couple of traditional fiddle tunes. Undoubtedly the connecting thread of this album is Gaelynn Lea herself. With her singular voice and deeply-affecting violin, she guides the listener through a journey that explores the contrasting nature of existence: dark and light, birth and death, anger and forgiveness, sorrow and joy. Learning How to Stay encourages the listener to stay present for it all.

The album opens with a droning cascade of strings and a lone piano setting the tone on Bound By a Thread, then abruptly shifts to the bright country twang of guitars through a lesson of literal biology and figurative heart on Dark to Light and Dark Again. This contrast is indicative of the record as a complete thought, presenting the listener with an ever-widening spectrum of themes and musical moods. The sparse indie-rock vibe of I See It Too is then juxtaposed with the Celtic-like pastoral build of the instrumental, Jim and Judy's Wedding (composed by Larry Unger).

Mid-tempo grooves are broken down and piled back up on both Lost in the Woods and the backstreet rocker Someday We'll Linger in the Sun. Carefully, patiently, the music unfolds with a myriad of tasteful choices: a Hammond B-3 organ harmonizing briefly with the heartbreak vocal of The Last Three Feet; the polyrhythmic art rock sensibility of I Wait.


In addition to performing and recording, Gaelynn also loves to do public speaking engagements about disability awareness, accessibility in the arts, and living an enriching life. She has a congenital disability called Osteogenesis Imperfecta, or Brittle Bones Disease. Gaelynn is a strong voice in the disability community; she uses her music as a platform to advocate for people with disabilities and to promote positive social change.