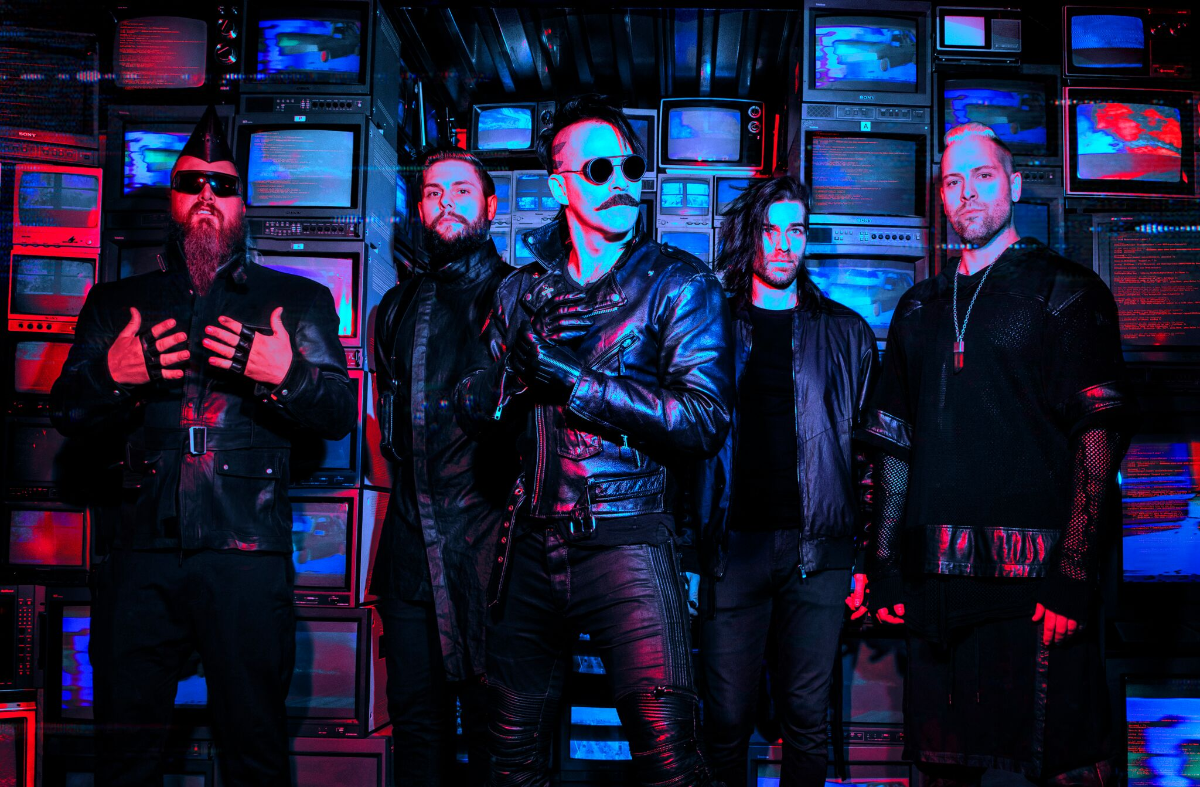 Doors:

8:30 pm

/
Show:

9:00 PM
High Noon Saloon
$18 ADV//$20 DOS
Ages 18 and Up
Iconoclastic 3TEETH frontman Alexis Mincolla is dedicated to exploring the relationship between archetypes, mythologies, history, and the hypocrisy of the human experience. "We're constantly dissecting the space between chaos and order in the eternal psychic battle between forces with opposing beliefs or perspectives, that we call the cosmic taint," he says.
3TEETH use corrosive rhythms, acerbic samples, blazing guitars and a confrontational polemic to inspire listeners to question the ideologies that we hold sacred. It's the same kind of musical activism sparked by groups like MC5 in the '60s and reignited in the '90s by Rage Against the Machine.
The dualities between the left and the right, the haves and the have nots, and the variegated results of governmental oppression and total anarchy are touchpoints for 3TEETH, a band that doesn't believe in aphorisms or absolutes and seeks liberation through angry, yet accessible music. The band's third album, METAWAR, is a powerfully political compendium of songs which are both enlightening and infectious.
"I wasn't writing for the left or the right or anything like that," Mincolla says. "I just wanted to write stuff that reflected the whole insane, absurdist political theater and wrap it all up in this nihilistic approach of bringing it all to an end. There's something really rewarding about creating this funhouse mirror that we're holding up to things like the military-industrial complex. You warp it in this sardonic way and reflect it back at people - it's like sucking the poison out of the mass-production society and then spitting it back in its own fucking face."
Having established themselves and cemented a following with their first two albums, 2014's self-titled debut and 2017's <shutdown.exe>, and having toured with Tool, Rammstein, Danzig and HIM, 3TEETH is in a good position to lash out with their most fiery, catchy and confrontational album to date, METAWAR. Mincolla and his bandmates started working on the songs in their home studio. When they had a batch of material they were happy with, they called industrial music guru Sean Beavan (Nine Inch Nails, Marilyn Manson) to produce the album. And this time, there were no external distractions.
"This was the first record where we weren't working side jobs and just getting together on free time and cobbling together a record," Mincolla says. "We put our total focus into this and that helped us find our real sound and hone it. We self-produced our first two albums, and that was cool, but having a producer as experienced as Sean to help push us really brought out our best. And we had a fucking blast."
One listen to the syncopated beats, misanthropic vocals and uncanny melodies of the opening track "AFFLUENZA" illustrates 3TEETH's determination to stretch boundaries and shatter preconceptions. The rest of the album is just as impacting. The first single, "AMERICAN LANDFILL," starts with a sample redolent of industrial chainsaws and the threatening sound clip, "You gonna buy American next time?" Then, the track launches into a surging number fueled by the contempt of ignorance and a celebration of decay. Mincolla's vocals see-saw from aggro screams to haunting melodic crooning and the band compliments his delivery with chugging riffs, pulsing keyboards and battering ram beats.