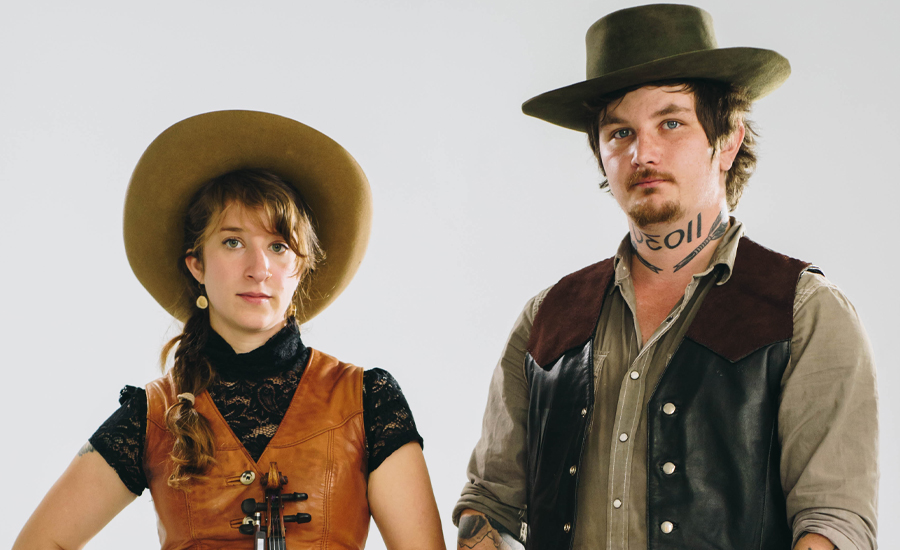 FPC Live Presents
Lost Dog Street Band
Matt Heckler
,
Casper Allen
Doors:

8:30 pm

/
Show:

9:30 PM
High Noon Saloon
$15 ADV//DOS
Ages 18 and Up
Lost Dog Street Band
Lost Dog Street Band formed in the winter of 2010 after husband-and-wife duo Benjamin Tod (guitarist/vocalist) and Ashley Mae (fiddle player) parted ways with former musical project Barefoot Surrender. Originally conceived as a duet, Benjamin and Ashley quickly dedicated themselves to carrying the tradition of the American troubadour – hopping trains and hitchhiking across country while delivering their unique brand of original songwriting and tragic storytelling.
In the summer of 2011, while performing on the streets of Nashville, Tennessee, Benjamin and Ashley met Nicholas and Shannon Ridout, two skilled musicians traveling from the Pacific Northwest. Immediately inspired by each other's music, the two groups began writing collaboratively and soon formed the band Spit Shine. The four musicians quickly built a friendship stronger than family, and together poured their blood and sweat into the music of Spit Shine. For the next two years Lost Dog Street Band took a hiatus, until Nicholas's tragic death in the spring of 2013.
Pushing through the sorrow at the loss of their best friend, Lost Dog Street Band was resurrected with a fervency. Now doing very little street performing, Lost Dog Street Band tours the country each year, delivering their story through song in venues nationwide. In 2017 Lost Dog completed a national tour supporting The Devil Makes Three playing some of the oldest and largest theatres in America. Most recently, the group tours regularly appearing coast to coast in venues nationwide. Along the way they keep Nicholas's work alive by sharing his music at the end of every show they play.
Drawing from years of lonely tramping, and more than one tragic loss, Lost Dog Street Band has crafted a distinct sound that is best described as 'dark country' that never wavers from its roots and honors the traditions of its forbearers. In the same vein as country-legend Guy Clark, Benjamin Tod weaves his melodies and lyrics together to offer listeners an unapologetically raw and authentic account of the human experience.
Lost Dog Street Band has since relocated from home base in Tennessee to Muhlenberg County, Kentucky. They are currently homesteading eleven acres of raw land.

Casper Allen
Hailing from the furthest reaches of Texas (every which side of the state), Casper Allen left home early in search of experience, and, years later, his search continues. Detailing his experiences in the Texas songwriting tradition of his heroes Guy Clark and Townes Van Zandt, Allen explores themes of addiction, life on the road, and the ups and downs of a life well-traveled with a style developed busking on street corners and playing in dusty bars across the greater U.S. After years of singing accompanied only by his own guitar, Allen has built a strong performing catalog of original songs and hidden gems of the American songbook. Now residing in Austin, he enjoys a newfound stability, a good cigarette, a long walk in the woods, and chicken.