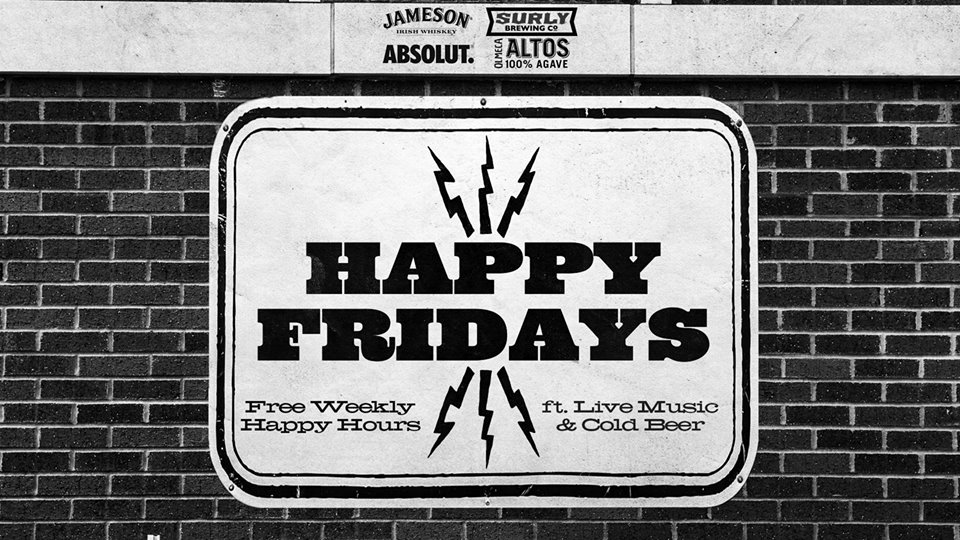 High Noon Saloon
HAPPY FRIDAYS -FEATURING- BIG WES TURNER'S TRIO
Doors:

4:00 pm

/
Show:

5:00 PM
High Noon Saloon
FREE
Ages 21 and Up
Start your weekend off right with Happy Fridays — a new tradition at High Noon Saloon featuring two of the greatest things in life — alcohol and free live music! That's right folks, every Friday from 5-7PM we'll be hosting free live and local music alongside tamales from El Poblano and Happy Hour specials from Jameson Irish Whiskey, Absolut Vodka, Olmeca Altos Tequila, and Surly Brewing Company! Come get happy with us, Madison...ya damn well deserve it!

$3 Surly Beers
$5 Jameson, Absolut, Olmeca Altos Drinks
$6 Surly + Shot of Jameson
Tamales from El Poblano
-------------------------------------------------------
Big Wes Turner's Trio plays (rockin') Rhythm, & (swingin') Blues in the tradition of their mythic mentor, Big Wes Turner.

Who are these guys?
Rick Becker joined the Madison blues scene as part of The Chicago Daily Blues, regulars at storied blues club, The Church Key. He toured extensively with Luther Allison, rocked out with Johnny & The Hawaiians, got funky with Hot Noggin (alongside Junior Olson), turned Country crooner with Out of the West, and went retro-rocking with Kid Tater & The Cheaters, and Roots rocking with The Midwesterners.

Gary Hendrickson has most recently provided the guitar power for The Birddog Blues Band, but he goes back to the founding of The Jimmys, and before that, Johnny & The Gatecrashers, who became The Crashers and recorded their Love School album at storied Smart Studios in Madison.

Tom McCarty worked with The Midwesterners since 2001 and has played with The Cash Box Kings, The Jimmys, The Maintainers, the Jim Liban/Joel Paterson Band, the Birddog Blues Band, Mel Ford & The Fairlanes, Frank Grace & The Detonators, and The Kyle Henderson Band. If pressed, he may even admit to being a long-ago member of the original Little Vito & The Torpedoes.

Who is Big Wes Turner?
Only a mighty mythic hero of American music. A man who's seen it all and done it all. Many parts of the U.S. claim him (he's been everywhere, Man), but we are ninety-nine percent certain that Big Wes is from the Midwest, which would make him a Midwesterner. We think. One thing's for sure: he's BIG!