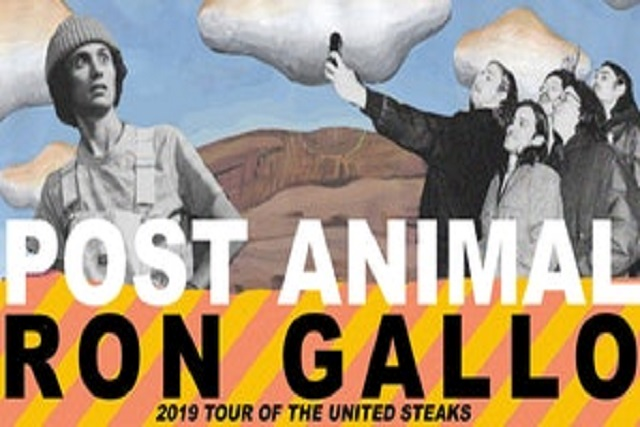 FPC Live Presents
Post Animal & Ron Gallo
Doors:

7:30 pm

/
Show:

8:30 PM
High Noon Saloon
$15 ADV // $18 DOS
Ages 18 and Up
Post Animal
Chicago-based Post Animal are a band of brothers. Though they formed in 2014 and just began touring in 2017, their affinity for slick riffs, pop hooks, and psychedelic tendencies join them in a bond much tighter than their years suggest. Initially formed when childhood friends, bassist Dalton Allison and guitarist Matt Williams, met keyboardist and guitarist Jake Hirshland, the band's sound began to take shape when the three enlisted some more pals from both the Chicago music scene and through their time working at local burger joints. Rounding out the band's lineup, Post Animal is completed by drummer Wesley Toledo and guitarists Javi Reyes and Joe Keery.

The Chicagoans' debut full-length When I Think Of You In A Castle, out 4/20 via Polyvinyl, is the product of six friends creating music they love, even if the circumstances weren't always in their favor. "Before this album, we weren't sure what the future of the band was going to look like. I was considering moving to Los Angeles and Joe [Keery] was off filming Stranger Things. We didn't know where we were all going but we knew we wanted to make an album with all of us in the same room," explains Toledo. Being the first time all Post Animal members recorded together, the album's collaborative spirit is more-than-evident throughout its 10 carefully curated tracks. Even Keery, who's no longer an active touring member of the band due to his skyrocketing acting career, was integral to the album's inception.

In the summer of 2016, the band retreated to a lake house in Watervliet, Michigan to record When I Think Of You In A Castle. For a week and a half, they tracked the LP. Elsewhere, a longtime live staple "Tire Eyes" finds new life on the LP. It's a swaggering ode to a timeless classic rock song with Allison's falsetto beckoning, "So forget about your day and let this record float you away / As your mind is winding, finding cause to be easy." The finished album, which was mastered by Jake's brother, Jared Hirshland, is a truly collaborative continuation on the band's kaleidoscopic and sprawling early beginnings.

But most importantly, When I Think Of You In A Castle is a testament to not only the brotherly connection that these friends share, but also to the power of collaboration between like-minded musicians who just get one another. "Before we recorded it, it was an uncertain time for us as a band, but we all just had a magical time at this lake house in the middle of summer," explains Toledo. Almost impossible to describe, the Post Animal bond is best observed while foolin' at the merch table after a sweaty show. They look forward to seeing you there and, naturally, becoming your new best friends.