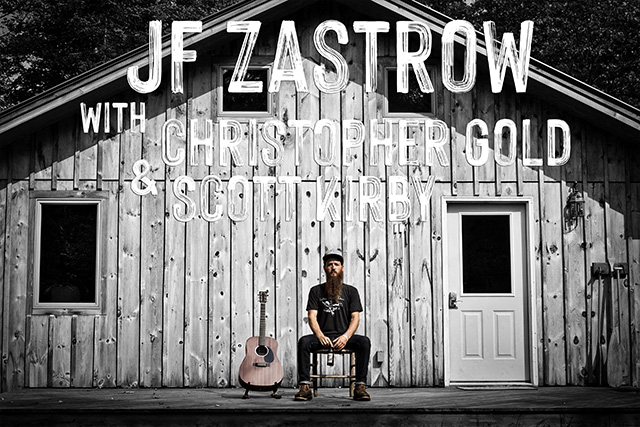 HIGH NOON SALOON PRESENTS
JF Zastrow's "Between You and Me" Album Release Show
Christopher Gold
,
Scott Kirby
Doors:

7:00 pm

/
Show:

7:30 PM
High Noon Saloon
$7 ADV // $10 DOS
Ages 18 and Up
JF Zastrow
JF Zastrow is the stage name of Madison, WI based folk-punk singer, songwriter, and gentleman Josh Zastrow. JF wrote his debut studio album "Between You and Me" in his spare bedroom over the course of three years, belting his songs out to four walls and his dog Maggie. In December of 2019, JF fled the depths of his spare bedroom and recorded his album at Flat Black Studios in Iowa. It was mixed, mastered, and engineered by long-time studio engineer Luke Tweedy who has worked with the likes of William Elliott Whitmore, the Joe Stamm Band, and Elizabeth Moen. JF's music is heavy and heartfelt. Armed with an acoustic guitar and a kick drum, JF's songs are loud and punchy, slow and sad, full of anger and full of love. All at the same time. They mirror a range of his life experiences and personal struggles including heartbreak, addiction, triumph, finding love, cherishing a smile, dealing with the death, and through it all, making for damn sure to enjoy every second of this merry-go-round we call life. "Between You and Me" is a gritty, honest, and heartfelt look at life, death, and everything that happens in between. JF sings brutally honest songs that will get your foot to stomp, your smile to widen, and your heart to feel.

Christopher Gold
Christopher Gold is a Kentucky-born songwriter living in Wisconsin. Together with his band The New Old Things he has written and recorded folk songs, country songs, rock & roll songs, and everything in between citing a love for songwriters like Townes Van Zandt, Bob Dylan, Tom Petty, and anybody else whose work begins with paper and pen.

Scott Kirby
One of the best and busiest of Northern Wisconsin's Working Musicians/Artists; Scott Kirby, Has been featured on Milwaukee public television's "Around the Corner with John McGivern", Relix Magazine's Dec 2015 music Sampler, "The Maple Leaf Mailbag" of Radio Canada International, "Live from the White Pine" on WXPR, the Independent Documentary film "UP a River", was first runner up at Big Top Chautauqua's Celebration of Song Festival '09 . Kirby Has opened for: Suzanne Vega, Indigo Girls, Bill Miller, J.L. Stiles with Doug Ellington, Sean Kelly, Rhonda Vincent...Performs Over 200 shows per year in Diverse Venues from the House of Blues to the Hard Rock Cafe to The Overture Center's Capitol Theatre, to street corners in Nashville and Subway Platforms in New York City. He Performs Weekly in northern Wisconsin.